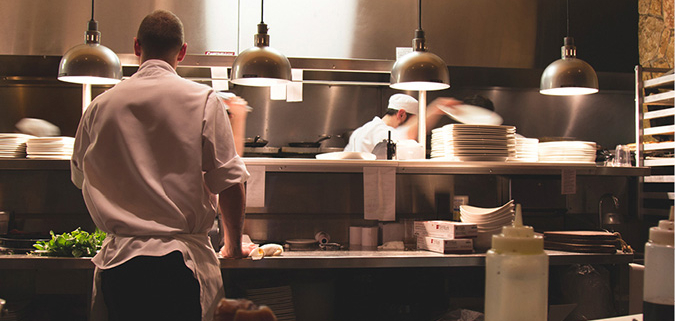 What is mandatory for gas barbecues operated commercially?
Approximate reading time:

5

minutes
Already used in the USA and on the rise in Germany as well: the gas barbecue. If you use the barbecue privately, the appropriate fittings (pressure reducer, hose assembly) are already included in delivery. But which pressure regulator or hose assembly do you have to use if you use the gas barbecue commercially? And does the system have to be checked regularly for leak-tightness and function? If so, how and by whom? In this article, the GOK blog team will help you to operate commercially used gas barbecues safely.
It's true everywhere, but especially applicable in hospitality: time is money. With regard to the equipment, this means: It must be able to work and deliver at the touch of a button. That is why the gas barbecue is so popular, for all those who use it commercially or plan to make it their business in the future.
In addition to functionality, safety is a major topic for every responsible person.How does the LPG system have to be arranged and constructed in order to offer as much safety as possible for me as the operator and also for my employees? Before we start with this point, however, first of all we deal with the question:
What is covered by the term commercial?
One thing is clear: For example, if you cook steaks and sausages for your family or friends in your leisure time, this is clearly not commercial use. You are not pursuing any commercial purpose, merely a culinary one.
It would be different if you used the gas barbecue, for example,
in a restaurant,
in a snack bar or
in a stall at markets
In such cases, as a business owner, you do this for those commercial reasons, i.e.: You want to earn money and the gas barbecue is your means of doing so.
Sports club: special case?
A special case is when the sports association fires up the gas barbecue at home games to treat the spectators to tasty grilled delicacies.However, as the barbecued food is not generally provided free of charge, this is more of a commercial use.
Fittings requirements
Once we have defined a distinction between private and commercial, we can now deal with the specific requirements for commercial use of the LPG system.
Pressure regulator
The pressure regulator, also referred to as pressure reducer, is the key to the functionality of the entire system. As a business operator, you need a pressure regulator with so-called over-pressure safety device. If the gas barbecue is outdoors, we recommend the special "Grill regulator".

If the gas barbecue is used in a room, for example, in a snack bar at a folk festival, the pressure regulator also needs a thermal cut-out device (image). You can see whether the GOK fitting has one of these by checking for a "t" or "F1-T" on the type label.
Hose assembly
With the gas hose itself, there is no distinction between private and commercial gas hose – except for the length (see the following item "excess flow device").As the operator, you should only make sure that the hose assembly is orange, the connections match the fittings to be connected and select the correct length of the gas hose.
Excess flow device
On the subject of the gas hose length:If this is longer than 40 centimetres, the business operator requires an excess flow device. It is available as a separate component as well as directly integrated in the pressure regulator.
Replacement period 
High temperatures, continuous operation, direct sunlight – components such as pressure regulator and hose assembly are sometimes subject to intensive load. This is why binding replacement periods exist. These are set out in regulation 110-010 of the German Accident Insurance Act (DGUV 110-010).
At the latest ten years after the date of manufacture, the operator must replace the pressure regulator, hose assembly and other wear parts of the LPG system.
Inspection period
The test intervals for commercial gas barbecues are also set out in DGUV 110-010. According to this, the business owner must appoint a qualified person who:
inspects the system before initial start-up.
performs an inspection after repair work or modifications which may affect operating safety.
inspects the system after operational interruptions lasting longer than one year.
The inspection period depends on the type of LPG system. All inspection intervals are now specified in a table. You can find this table under 6.5 in DGUV Regulation 110-010.
Tip
Our tip to business owners: take a closer look at DGUV 110-010 if you haven't already done so. It is a key collection of useful information for the general use of LPG in the commercial sector – and is not only limited to gas barbecues, but to various pieces of gas equipment.
All things considered, you should not see such regulations as annoyances to prevent you from operating your actual business. On the contrary, they help you to establish a maximum level of safety. Both for the business owners and their employees as well the guests.
https://www.gok-blog.de/wp-content/uploads/2018/04/Titelbild-Grillen-Gewerbe-LPG-GOK-Blog.jpg
324
675
GOK Media
https://www.gok-blog.de//wp-content/uploads/2020/10/GOK-BLOG-Logo.svg
GOK Media
2018-04-23 07:00:43
2023-02-15 08:42:50
What is mandatory for gas barbecues operated commercially?