What withdrawal volume do I get out of one gas cylinder?
Approximate reading time:

3

minutes
LPG is an ideal form of energy. Particularly when it comes to mobile applications, such as gas-powered barbecues, heating and cooling caravans or operating heating mushrooms and heaters. And why is it so popular? Among other reasons, this is because the cylinder is a perfect container for transporting the gas. However, very few people know what withdrawal volume of the propane-butane mixture they actually obtain from the cylinder. This can be really surprising, especially when operated constantly.
There are now various sizes of gas cylinder available, but the most common are still those with filling weights of 5, 11 and 33 kilograms.
Small cylinders
The smaller, and very handy, 5 and 11 kg gas cylinders are primarily used for private applications, like operating
a gas-powered barbecue,
a patio heater,
a fridge in a motor caravan or
a simple heater.
But these small cylinders are also popular among tradespeople in the industrial sector. They act as a source of energy for soldering work in renovation and heating work, or for heating and burning work in road works.
Large cylinder
The 33 kg gas cylinders are not called "large cylinders" for nothing, which makes them considerably more cumbersome than their two little brothers. The large cylinders are mainly used in all places where a larger volume of LPG is required over a longer period of time. For example, this can be the case at food stalls at markets or for operating gas stoves in restaurants.
Time parameter
The volume of LPG you obtain out of the cylinders depends, among other things, on the period of time that you use them. In principle, the mode of withdrawal can be divided into three categories:
Short-term – quickly barbecuing two lots of bratwurst
Periodic – a few hours of barbecuing at a big party, but with interruptions as the guests arrive at different times
Long-term – for example, continuous operation of a gas heating device in winter
Withdrawal volume from a 5 kg gas cylinder
From the nominally smallest cylinder, at least in the short term, the user obtains 1.5 kilograms per hour (kg/h) – this is around 19 kilowatts (kW) – quite a lot of the propane-butane mixture. But the longer they withdraw, the more the withdrawal yield decreases. If you withdraw LPG over a longer period of time, you yield barely 0.2 kg/h. This value corresponds to an output of around 2.6 kW.
If you look at these figures and think that you actually don't get very much energy out of a gas cylinder, you should look at the heating value of the medium LPG – especially when compared to other sources of energy: What is the heating value of media such as fuel oil, LPG and natural gas?
Withdrawal volume from a 11 kg gas cylinder
Intermittently, you withdraw a healthy 2 kg/h LPG from the 11 kg cylinder, more than double as big as the 5 kg cylinder. Nevertheless, this corresponds to just under 25 kW. But with periodic or constant withdrawal, the curve continues to decrease here as well. If you draw gas out of the 11 kg cylinder over a long period of time, you can calculate this as approx. 4 kW.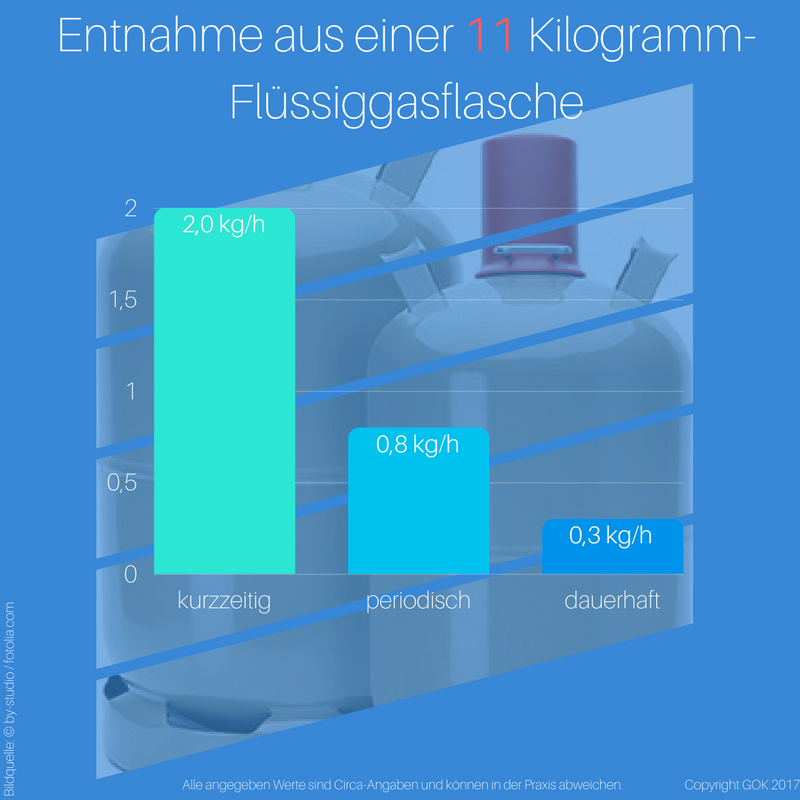 Withdrawal volume from a 33 kg gas cylinder
With a filling weight of six or three times greater than the others, the 33 kg cylinder is the largest in Germany. If you only need LPG for a short time, you obtain almost 3 kg/h or 40 kW. If you continually withdraw LPG from the cylinder over hours, this still gives you an output of almost 8 kW.
However, it is always an unmistakable sign that the withdrawal volume and withdrawal output do not match when the gas cylinder ices over.
https://www.gok-blog.de/wp-content/uploads/2018/01/Titelbild-Gasflasche-Entnahmemenge-GOK-Blog.jpg
324
675
GOK Media
https://www.gok-blog.de//wp-content/uploads/2020/10/GOK-BLOG-Logo.svg
GOK Media
2018-01-08 07:00:33
2022-04-14 08:43:10
What withdrawal volume do I get out of one gas cylinder?