What needs to be considered before and during the assembly of GOK's compression fittings?
Approximate reading time:

3

minutes
It is difficult to get around compression fittings or Ermeto screw connections as connecting elements, especially when assembling (liquid) gas systems or fuel oil systems. And in these fields of application, the areas of use are once again strongly branched. For example, compression fittings are used in the gas supply in motor caravans and caravans, for LPG systems to operate gas stoves or heating as well as for the pipe connection in fuel oil systems. That's reason enough to describe the most important facts of this connection type in its own article.
Areas of application
GOK compression fittings are basically elements for safe and tight connections between pipes and fittings, for example. There are various areas of use. GOK compression fittings can be used by experts and end users in LPG and fuel oil systems as they have the corresponding approval.
However, this connection type is of course also used in many other areas. It would not be possible to list all of them here. If you are planning a specific application of GOK compression fittings beyond the application purposes for LPG and fuel oil, please observe the valid specifications for the respective application.
Compliant with standards
In principle, GOK compression fittings are manufactured in accordance with the requirements of EN ISO 8434-1. Often, there are already regulations for the connection elements to be used in the planning documents. If the requirement for that standard can be found there, the basic requirement is fulfilled.
Types of compression fittings
The variety of types of compression fittings is once again significantly more branched than their areas of use. The connection elements from GOK can be differentiated according to the following attributes, among other things:
Material: Steel, brass or stainless steel
Form: Straight, angle, T- or cross-shape
Type of connection: Screw-on or screw-in thread/welded-on or pipe socket
Dimension: Thread size and outer pipe diameter
Which compression fitting for which pipe?
By the way, anyone who uses steel or stainless steel as a pipe material and who wants to make the connections with compression fittings has clear specifications. With the steel pipe, only one compression fitting made of steel may be used. If you have a stainless steel pipe, it must be a stainless steel compression fitting.
There are two options for copper and copper alloy pipes:
Compression fitting completely made of brass or
Compression fitting made of steel, but with brass olive
Once the correct connecting element has been selected, the assembly follows, and the question: Does the compression fitting have to be pre-assembled or is direct assembly permitted?
You can find a complete summary in this diagram: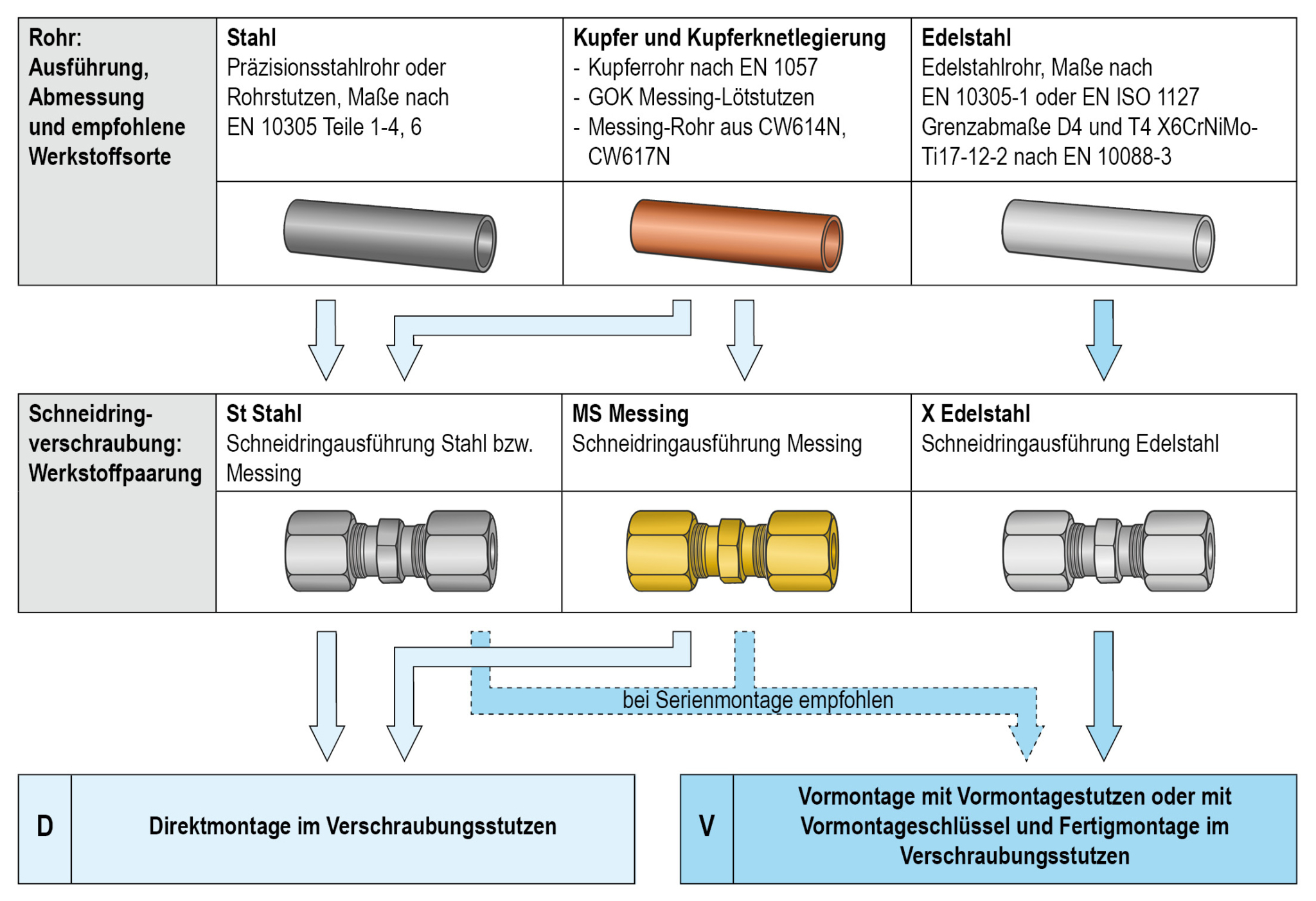 Direct assembly or pre-assembly?
As can be seen in the diagram, compression fittings made of stainless steel must be pre-assembled; for such parts made of steel and brass, it is recommended for series assembly. Why?
It may well be the case that the installation situation is very cramped or unforeseeable. In such cases, a tailor-made connection can be made more easily and quickly with pre-assembled elements. This prevents the risk of a leaky connection due to a complicated installation situation.
There are two options for pre-assembly:
Mounting with a pre-assembly socket: The nozzle must be clamped into a vice.
Mounting in a pre-assembly key: The key can be used for mobile pre-assembly.
Installation instructions
A complete description of the individual steps for direct or pre-assembly would make this article far too long. For this reason, we recommend this assembly manual from GOK. Here, you will find all the important steps, clearly depicted and described.
https://www.gok-blog.de/wp-content/uploads/2021/02/Titelbild-Schneidringverschraubung_23.jpg
324
675
GOK Media
https://www.gok-blog.de//wp-content/uploads/2020/10/GOK-BLOG-Logo.svg
GOK Media
2021-02-25 11:00:53
2022-05-03 13:15:30
What needs to be considered before and during the assembly of GOK's compression fittings?